Hot
New
-36%
In stock
Out Stock
Premium Bonsai Lotus Flower Seeds (10 Seeds/Pack)-Buy 2 get 10%OFF
Hurry! Only 10000 Left in Stock!
Order in the next to get it by
Real time
45
visitor right now
PRODUCT INFORMATION
ADDITIONAL
CUSTOMER REVIEWS
PRODUCT INFORMATION
WHAT CAN BE MORE BEAUTIFUL THAN A RARE COLOR BLOOMING WATER LOTUS?

Please rest assured that we will ship normally.
At the same time, we hope you take good care of yourself
Free Shipping Over $40 
Handling time>> Ship within 24 hours after payment.

 

95.2% of customers are buying 2  or more
Planting Difficulty Degree: Easy to Mid
Flowerpot: Excluded
Classification: Novel Plant
Function: Beautifying/Spiritual
Express your Spiritual self by growing this Premium Bonsai Lotus at home or even in your office.
Can be placed in your fish tank without harming fish and animals
The Premium Bonsai Lotus Seeds

The Real Lotus Flower Seeds - Bonsai Set lets you grow your very own Lotus flowers indoors. Growing your own Lotus flowers at home or at the office brings you and your family peace and positivity.
The Lotus flower is a symbol of peace and eternity. Lotus flowers are usually seen under the feet of deities. This sense of purity of the Lotus flower arises from the flower's growing habit of rooting in mud and pushing up through the water to bloom.

So what is it about this mysterious blossom that people find enrapturing? Its colorful bloom is an obvious suspect, but lotus also has a life cycle unlike any other. It starts off as a bud underwater, often in murky ponds - undeterred by its dirty environment - it grows until it emerges from the muddy waters into a beautiful blooming flower. (All humans are born into a world of suffering where they must learn to overcome difficult times to become a better person and reach spiritual enlightenment. The muddy waters represent the struggles of life, the bud of the flower represent a person that has not yet reached their full potential and the blossoming lotus flower above the water represents someone who has achieved nirvana and let go of the worldly sufferings.)



The color of the Lotus certainly affects its general meaning as well. The white and Soft Pink lotus flower from the Nelumbo family are seen as meaning Purity and Devotion. More Passionately colored Pink, Lavender, Purple, Yellow and Mint Blue lotus flower blooms can take on a spiritual meaning of ascension, enlightenment and rebirth.


Sowing time:

 

Lotus seeds do not have hibernation,as long as the water temperature is above 12 ℃ , you can sow on any season. Under the condition of appropriate temperature and sunlight, it will take about 50 to 60 days from sowing to flowering. Spring and autumn maybe needs 60-80 days.
Seed treatment:

 

Lotus seed shell is hard and dense,must be manually scraped before soaking. Be careful not to hurt the embryo. See image below: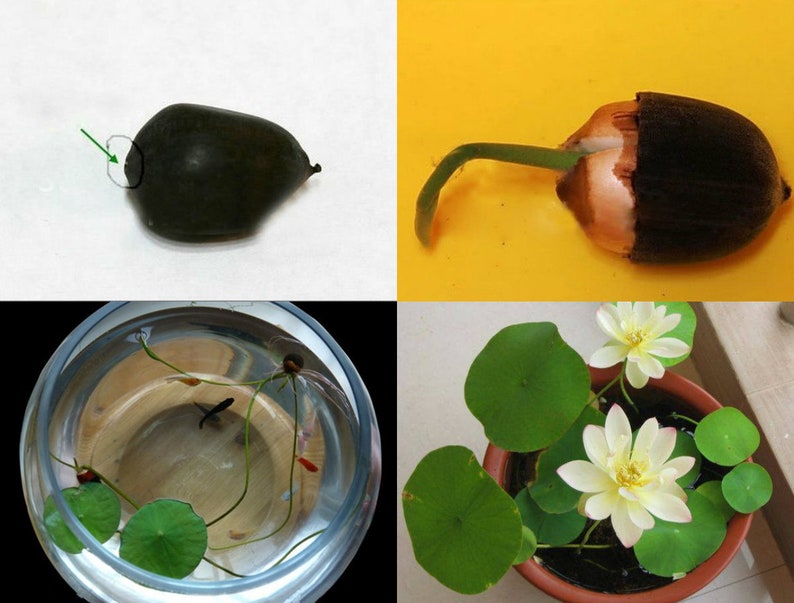 Important: Use a sandpaper or a sharp cutter to cut the seeds open as shown below  before sowing/immersing in water.
Can sprout within 1 week (3 days most of the time). Fine roots and 2 to 3 leaves will Grow after 2 weeks.